Upcoming shows: FSM, 2 Fulton Street, South Street Seaport, starting in May 2022
Recent shows: Estonain House, New York City, November 2021. FSM, New Yortk City, Jul-Nov 2021. City Lore, New York City, 2019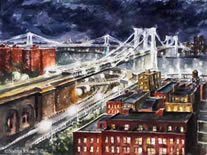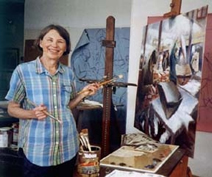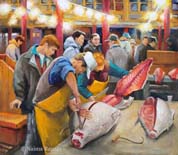 Downtown Post NYC wrote about Naima's new studio in historic Schermerhorn Row at South Street Seaport – January 13, 2014 issue
NOTE – when accessing above publication, please scroll down to: 'The Old Hotel' at Fulton and South Streets in paintings and pictures
Article about Naima's showings: "Seaport artist's space will sleep with the fishes."
2012-13 – Seventh and Eighth Annual Remembering Fulton Fish Market Art Exhibits were cancelled due to Superstorm Sandy's destructive visitation to lower Manhattan and South Street Seaport.
2011 – Sixth Annual Remembering Fulton Fish Market Art Exhibit, South Street Seaport, New York City – Art Curator Lenore Scendo describes the show: This was a fond look back at the Fulton Fish Market on the 6th anniversary of its move from South Street. Naima Rauam spent decades documenting market life and is still inspired by it. For a few weeks, the spirit of the Fulton Fish Market returns to South Street through Naima's watercolors and drawings.
The Fulton Fish Market had been an institution in New York City since 1822, taking over the streets of the South Street Seaport with the tumultuous buying and selling of a million pounds of seafood every night. Amid allegations of mob corruption at the Market, which reached a crescendo during the Rudolph Giuliani administration of the 1990s, and the press for development of the Manhattan waterfront, the Market was moved to the Hunts Point Food Distribution Center in the Bronx. On November 11, 2005, the last fish was carved and sold just before dawn, and the Market closed its doors on South Street forever.
Naima Rauam lived and worked amongst the fishmongers of the Fulton Fish Market for well over two decades, documenting Market life with her artwork. Night after night, year after year she worked alongside Market owners, salesmen, buyers, and fish cutters, sketching and photographing them, their work and their downtown setting. Their darkness to dawn work schedule became her own. To quote from a 2005 New York Times feature article on Ms. Rauam: "She's a market guy," explained John Guttilla, a big, bearded man who runs Blue Ribbon's shellfish operation. "Anyone who's out there in the middle of winter, in the middle of a snowstorm, doing her thing while we're doing our thing, is one of the boys." As she became immersed in Market culture and lore, her work was recognized by the South Street Seaport Museum with a 1999 exhibit.
About the 2010 exhibit: Fifth Annual Remembering Fulton Fish Market Art Exhibit, November 2010
To receive notice of future shows, email Naima at SeaportArtist [at] gmail.com.
Visitors are welcome to visit Naima's studio by appointment. Email or call 212-964-8465