June 30, 2017 marks the one-year anniversary of the closing of Raccoon Lodge, a bar on Warren Street that had been in business for over three decades. An old-time neon sign jutting over the sidewalk was a distinguishing feature of the no-nonsense exterior. Inside was narrow, dimly lit, dazzlingly encrusted with memorabilia, and with a pool table in back. It was a bastion of camaraderie, and all were welcome. My artwork is based on sketches I did on site during the bar's last few days. • • Click here to view larger images of Raccoon Lodge artwork. • • Questions? Email Naima.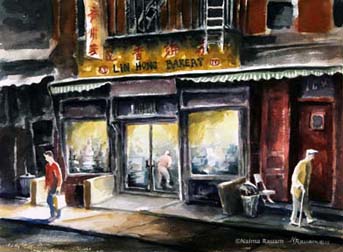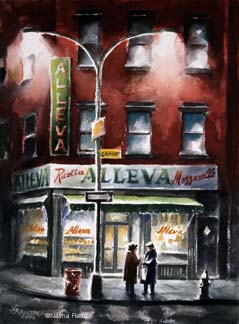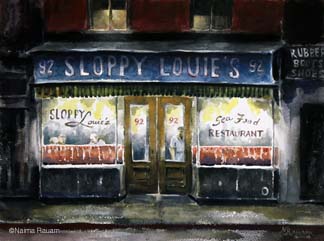 Please email or call Naima at 212-964-8465 for information about these watercolors
In 2014, I painted four panels, each 8 feet high, mounted on the side of a building at the South Street Seaport, on the corner of Fulton and South streets, in the heart of what was once the Fulton Fish Market before it moved to the Bronx in 2005. What better thing to do than to bring back the fishmongers - if only in paint - to their historic neighborhood?